Covid-19 (updated: 15/07/2022)
The organisers and participants shall comply to the local regulation. The participants shall carry a valid Covid Safe Ticket/Green Pass and we recommend wearing a mask when being within the facilities.
Stands
The stands are:
2m high
2 * 1m  width in V shape
Table and chairs
The material used on your stand as to be, at least, in English and you are invited to prepare the presentation of your project in English. By courtesy for the visitors, you are invited to prepare some in Romanian.
Plug outlet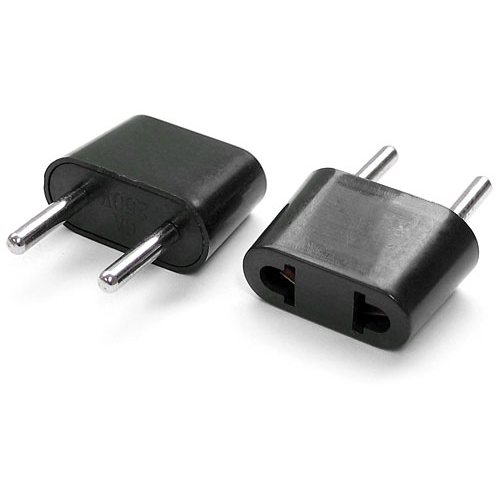 Romania's electrical current is 230 V — 50 cycles;
sockets take the standard continental European dual round-pronged plugs
A plug adaptor may be required for non-European appliances.
To check if your appliance or device needs a plug adaptor please visit
World-Power-Plugs.com/Romania
A power converter is necessary for appliances requiring 110 V.
Accommodation
The accommodation will be operated in the students houses of the university.
You will be accommodated in twin rooms. Partially filled rooms shall be completed with people from other delegation(s) of the same gender, category and age range. We kindly ask you to fill the rooming list.
Download the rooming list template (to be uploaded within the registration system).
Language
English is the official language of the event.
You shall be able to present your project in English and the material used on your stand as to be, at least, in English. By courtesy for the visitors, you are invited to prepare some in Romanian.
How to get there?
By air
Pick up is organized at Suceava Salcea Airport
Note: you may land in Bucharest, Bacau or Iasi and continue by train
More information on: https://www.aeroportsuceava.ro
By train
Pick up is organised at Suceava and Suceava Nord stations.
From Bucharest, transit from Bucuresti Nord station to Gara Suceava station.
Duration: 7h
From Bacau, transit from Bacau station to Gara Suceava
Duration: 1h40
From Iasi, transit from Iasi station via Pascani to Gara Suceava
Duration: 2h
More information on: https://www.mersultrenurilorcfr.ro
Volunteers will help you to find your way at those different locations.
By bus
Bus n°3 to "Policlinica" station, from there are 4 minutes walk to university
Cost: 0,5 lei
By other mean of transport
Address: Strada Universității 13, Suceava 720229, Romania
Taxi: can be booked at +40 230 522 222
Dates
The event will take place between 24th and 30th July 2022.
First/last meal to be served is the lunch.
Is ESE a competition?
The MILSET Expo-Sciences Europe is a non-competitive event. No comparison and ranking between the projects will be undertaken.
Visas
If you need a VISA to come:
The participant have to complete the registration information online;
The participant requests his invitation to the organiser once the registration is completed;
The organiser issues the invitation and the accommodation reservation and make them available into the online registration system;
The participant fulfils all requirements needed and handle his/her request with the embassy or consulate in charge for Romania visas.
Remarks
The participant is fully responsible to handle its visa in due time and to provide all required documents to obtain it;
The organisers will not be responsible if a participant does not receive his visa on time to travel;
The visa request should be entered at least 2 months in advance;
The participant wishing to extend its stay must be able to justify the additional time (hotel booking, etc.) when requesting its visa.
Who can participate?
Organisations and institutions affiliated to MILSET Europe can register directly (check the list here)
Organisations and institutions not affiliated to MILSET Europe need to contact the organising committee to request their accreditation
Direct registrations of individuals are not authorised.
The participants must carry a project they have realised on a scientific or technical topic. This projects will be showcase to the public during the event.
The participants must be between 14 and 25 years old with a maximum of 4 participants per project.
Fees & ratio
FEES
The participation fee is of:
| | | | |
| --- | --- | --- | --- |
| Category | Members | Non members | Full rate |
| Participants | 350€ | 450€ | – |
| Supervisors | 450€ | 550€ | 650€ |
The service provided is covering the period from the morning 24
th
July to the afternoon 30
st
July 2022 and includes the meals**, accommodation***, local transport and official activities. They are to be paid prior the event and are not refundable after 15
th
June****.
* The member list is available on: https://milset.org/milset/web/members
** The meals will be provided from the lunch on 24th July till the breakfast on 30st July included.
*** The organisers keep the possibility to board you with a participant from another delegation taking care on your gender and age.
**** The transfer costs are at your charge.
RATIO
The allowed ratio of supervisors (including heads of delegation) is calculated as follow:
Up to 1 extra supervisor each group of 4 participants
1 head of delegation if the delegation is at least 3 participants
Examples:


| | | | | | | | | |
| --- | --- | --- | --- | --- | --- | --- | --- | --- |
| Participants | 1-2 | 3-4 | 5-8 | 9-12 | 13-16 | 17-20 |  … | 50 |
| Supervisors | up to 1 | up to 2 | up to 3 | up to 4 | up to 5 | up to 6 |  … | up to 14 |
A maximum of 50 head, participants, supervisors & press by country. Non-European organisations are limited to 10 participants.
Please note, extra supervisors or persons not registered on arrival will be considered as visitors and will be responsible of their stay. They will have access to the expo during the public hours and will not have access to any other activities.
When is the registration deadline?
The registration deadline has been extended to 15th June 2022. Would you conduct your selection pass that date, please contact us prior the deadline.
Insurances
All participants must be covered by an insurance for the period of the event.
Personal data
The organisers commit the provided personal data is only used within the scope of the event, not to forward them to third party and to keep them for a maximum 3 years.
You are between 17 and 25, fluid in English, available between 20th and 30th July 2022 and willing to be part of an international team!?
Join the MILSET Expo-Sciences Europe 2022 as volunteer and make this event a great success!
We provide full boarding, travel expenses are on you to Bacau, Iasi or Suceava airport.
Interested, fill in the form here bellow: